The Grand Tour: Eurocrash è un nuovo episodio speciale di una delle serie Amazon più amate: il trio si avventura in un nuovo viaggio in Europa centrale e l'episodio è ora in streaming su Amazon Prime Video.
Forse con un budget maggiore, ma corse più selvagge e tante risate, Jeremy Clarkson, Richard Hammond e James May tornano per un'altra divertente avventura in giro per l'Europa. Il problema è che la loro lista di paesi in cui non è vietato entrare si assottiglia di giorno in giorno.
Jeremy, Richard e James fanno un viaggio che nessuno ha mai pensato in Europa Centrale, su auto che nessuno avrebbe mai immaginato.
Questo viaggio epico di 2253 km li porta da Danzica in Polonia, poi in Slovacchia, Ungheria e Slovenia. Provano la Formula 1 in stile sovietico, sono attaccati da arcieri letali, ingaggiano un famoso pilota e vivranno un momento spettacolare alla Fast and Furious.
Cosa vedremo nell'episodio Eurocrash?
The Grand Tour: Eurocrash vede il trio riunirsi per cercare di trovare un nuovo viaggio da intraprendere. E il loro viaggio che "nessuno ha mai fatto prima", li vede prendere il timone di auto che non hanno mai fatto un lungo viaggio, superando difficoltà mai affrontate prima. Almeno per James May comunque!
Con 2250 miglia da conquistare, il viaggio è partito da Danzica per poi scendere a sud fino a Vled in Slovenia. Lungo la strada, il trio viaggia attraverso i quattro paesi di Polonia, Slovacchia, Ungheria e Slovenia.
Hammond guida un pick-up decappottabile, Clarkson guida un'auto in stile Crudelia De-Vil su una Mitsuoka Le-Seyde, mentre James May occupa la parte posteriore con una decappottabile Crosley CC del 1947. Insieme, i tre sfrecciano attraverso varie strade di campagna e autostrade, scoprendo splendidi panorami lungo il percorso.
Liberamente sceneggiato come la maggior parte degli altri speciali, il trio si intreccia nella loro solita sciocchezza e si ferma lungo la strada. Tra i luoghi c'è pure un viaggio particolarmente ispirato al Waxwork Museum di Cracovia e un altro che vede il gruppo dirigersi verso una pista, con May che porta una buona dose di risate di pancia.
L'episodio speciale The Grand Tour: Eurocrash è ora disponibile in streaming su Amazon Prime Video
The Grand Tour: Eurocrash è uno speciale del 2023 della quinta stagione della serie della durata di 1h e 46 minuti disponibile in streaming su Amazon Prime Video a partire dal 16 giugno 2023.
Guarda il trailer del film The Grand Tour: Eurocrash in streaming ita su Amazon Prime Video
Se hai amato la serie, questo speciale è un'interessante aggiunta, in linea con i precedenti episodi. Il montaggio è fantastico su tutta la linea e il team di produzione riesce ad aumentare ancora di più l'umorismo attraverso i momenti chiave dello speciale.
Eurocrash è un episodio divertente da vedere, con tante battute e un tono accattivante.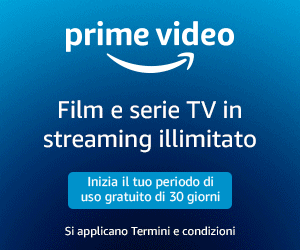 Netflix        News        Serie TV        Film        Amine        
Apple        Android        Tecnologia        Prime Video        Offerte        Disney+
Seguici su Facebook      Twitter      Pinterest
Seguici su Telegram: Netflix, Offerte Amazon Prime, Prime Video