The Turning è un film horror soprannaturale del 2020 in streaming su Amazon Prime Video: si tratta di una storia di fantasmi, adattamento moderno della storia del 1898 Il giro di Vite di Henry James.
Il film è diretto da Floria Sigismondi e scritto da Carey W. Hayes e Chad Hayes. Ha come protagonisti Mackenzie Davis , Finn Wolfhard , Brooklynn Prince e Joely Richardson e segue una giovane governante nel 1994 che viene assunta per vegliare su due bambini dopo che i loro genitori sono stati uccisi.
La storia racconta di una giovane insegnante Kate accetta l'offerta di diventare l'istitutrice di Flora e di andare a vivere nella sua sontuosa e solitaria villa.
Arrivata a destinazione Kate conosce la governante Grose e Flora, mentre il fratello maggiore, Miles, è in collegio. Il ritorno di Miles introduce elementi di inquietudine. Kate comincia ad avvertire strane presenze e le cose si complicano.
Il film The Turning è ora disponibile in streaming su Amazon Prime Video
The Turning è un film horror del 2020 della durata di 1h e 34 minuti ora disponibile su Amazon Prime Video.
Guarda il trailer del film The Turning in streaming ita su Amazon Prime Video
La trama del film The Turning
La signorina Jessel, la tutor residente della Fairchild Estate, fugge di casa in preda al panico e viene attaccata da un uomo cencioso.
Qualche tempo dopo, nel 1994, Kate Mandell diventa governante per Flora Fairchild, una bambina di sette anni, dopo la scomparsa della signorina Jessel. Prima di partire va a trovare sua madre, Darla, che vive in un istituto psichiatrico perché soffre di deliri.
Alla Fairchild Estate, Kate viene informata dalla custode, la signora Grose, che Flora ha assistito alla morte dei suoi genitori in un incidente d'auto ed è un "caso speciale"…
Il film ha ricevuto recensioni ampiamente negative dalla critica ed è stato una delusione al botteghino.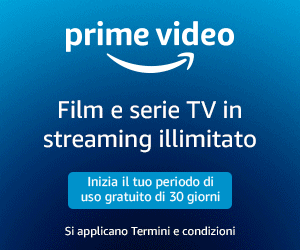 Netflix        News        Serie TV        Film        Amine        
Apple        Android        Tecnologia        Prime Video        Offerte        Disney+
Seguici su Facebook      Twitter      Pinterest
Seguici su Telegram: Netflix, Offerte Amazon Prime, Prime Video