No Time To Die è il film di James Bond interpretato da Daniel Craig del 2021ed è in streaming su Amazon Prime Video.
Il film di spionaggio del 2021 è il venticinquesimo della serie di James Bond e vede come protagonista Daniel Craig nel suo quinto e ultimo ritratto dell'agente immaginario dell'MI6 britannico, James Bond.
In No Time To Die, Bond si gode una vita tranquilla in Giamaica dopo essersi ritirato dal servizio attivo. Il suo quieto vivere viene però bruscamente interrotto quando Felix Leiter, un vecchio amico ed agente della CIA, ricompare chiedendogli aiuto.
La missione per liberare uno scienziato dai suoi sequestratori si rivela essere più insidiosa del previsto, portando Bond sulle tracce di un misterioso villain armato di una nuova e pericolosa tecnologia.
Il film è diretto da Cary Joji Fukunaga da una sceneggiatura di Neal Purvis, Robert Wade , Fukunaga e Phoebe Waller-Bridge.
La trama del film No Time To Die in streaming
In Norvegia, una giovane Madeleine Swann assiste all'omicidio di sua madre da parte del terrorista Lyutsifer Safin nel tentativo fallito di uccidere suo padre, il signor White. Madeleine spara a Safin, ma lui sopravvive e nel tentativo di scappare sta per morire ma Safin la salva.
Nel presente, dopo la cattura di Ernst Stavro Blofeld, Madeleine è a Matera con James Bond. Gli assassini dello spettro tendono un'imboscata a Bond quando visita la tomba del suo ex amante, Vesper Lynd.
Sebbene Bond e Madeleine sfuggano agli assassini, crede che lei lo abbia tradito e la costringe a salire a bordo di un treno fuori Matera, ponendo fine alla loro relazione.
Cinque anni dopo, lo scienziato dell'MI6 Valdo Obruchev viene rapito dall'organizzazione criminale Spectre. Bond che nel frattempo si è ritirato in Giamaica, viene contattato dall'agente della CIA Felix Leiter e dal suo collega Logan Ash, che chiedono l'aiuto di Bond per trovare Obruchev.
Nonostante qualche dubbio Bond accetta l'incarico e così inizia una missione insidiosa e pieni di rischi che solo James Bonds può affrontare.
No Time To Die (2021) il film è disponibile in streaming su Amazon Prime Video
Il film No Time To Die (2021) è disponibile in streaming su Amazon Prime Video a partire dal 13 maggio 2022. Il film ha durata di 2h e 44 minuti.
Léa Seydoux , Ben Whishaw , Naomie Harris , Jeffrey Wright , Christoph Waltz , Rory Kinnear eRalph Fiennes riprendono i ruoli dei film precedenti, con Rami Malek , Lashana Lynch , Billy Magnussen , Ana de Armas , David Dencik e Dali Benssalah .
Nel film in streaming No Time to Die, James Bond ha lasciato il servizio attivo con l'MI6 e viene reclutato dalla CIA per trovare uno scienziato rapito, il che porta a una resa dei conti con un potente avversario.
Il film ha ricevuto recensioni positive e ha incassato oltre 774 milioni di dollari in tutto il mondo, diventando così il quarto film con il maggior incasso del 2021. Il film ha ottenuto numerosi premi e nomination. Un film da vedere!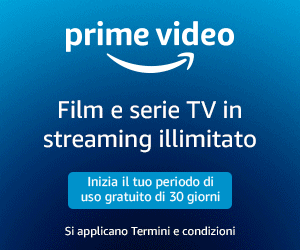 Netflix News Serie TV Film Amine
Apple Android Tecnologia Prime Video Offerte Disney+
Seguici su Facebook Twitter Pinterest
Seguici su Telegram: Netflix, Offerte Amazon Prime, Prime Video