Ip Man – Le origini è il nuovo capitolo della saga di film di arti marziali ora in streaming su Amazon Prime Video.
Decenni prima che diventasse il famoso insegnante di Bruce Lee, il giovane Ip Man era un capitano della polizia.
Sebbene senza colpe, viene incastrato per l'omicidio di un boss mafioso tanto rispettato quanto senza scrupoli. Sarà costretto a lasciare il corpo di polizia e la figlia del boss gli giurerà vendetta e si metterà sulle sue tracce senza pietà.
Come se non bastasse, Ip Man dovrà anche preoccuparsi dell'arrivo dell'esercito giapponese a Guangzhou.
IP Man – Le origini è un altro coinvolgente capitolo dell'incredibile saga di arti marziali, questa volta sulle origini del più grande maestro mai esistito.
Il film IP Man – Le origini è ora disponibile in streaming su Amazon Prime Video
IP Man – Le origini è un film azione del 2020 della durata di 1h e 20 minuti ora disponibile su Amazon Prime Video.
Guarda il trailer del film IP Man – Le origini in streaming ita su Amazon Prime Video
Ip Man: Kung Fu Master è un film cinese di arti marziali, co-scritto e diretto da Li Liming e interpretato da Dennis To nei panni di Ip Man.
Si tratta del terzo ritratto di To dell'artista marziale di Hong Kong, dopo The Legend Is Born: Ip Man (2010) e Kung Fu League (2018).
Il film descrive il periodo di Ip Man come agente di polizia a Guangzhou prima della rivoluzione comunista cinese del 1949. Il film non è uscito nelle sale in Cina, ma è stato invece distribuito digitalmente.
Le recensioni del film non sono state eccelse perchè in parte il pubblico ha criticato la poca originalità dopo il primo e il secondo film che hanno riscosso un discreto successo.
A parte quindi una mancanza di originalità, il film è un classico film d'azione su arti marziali e trattandosi di un film cinese fa riemergere un antagonismo con il popolo giapponese per ribadire una superiorità del popolo cinese.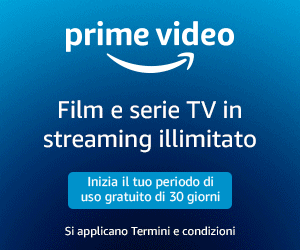 Netflix        News        Serie TV        Film        Amine        
Apple        Android        Tecnologia        Prime Video        Offerte        Disney+
Seguici su Facebook      Twitter      Pinterest
Seguici su Telegram: Netflix, Offerte Amazon Prime, Prime Video