Censor (2021) è un film horror psicologico britannico che arriva in streaming su Amazon Prime Video in cui l'addetta alla censura Enid scopre qualcosa di inquietante sulla scomparsa della sorella.
Il film horror psicologico è diretto da Prano Bailey-Bond, prodotto da una sceneggiatura di Bailey-Bond e Anthony Fletcher. Il film è interpretato da Niamh Algar, Nicholas Burns, Vincent Franklin, Sophia La Porta, Adrian Schiller e Michael Smiley.
L'addetta alla censura Enid scopre un inquietante horror collegato alla misteriosa scomparsa della sorella e decide di risolvere l'enigma che si cela dietro al film e al regista. Una ricerca che confonderà i confini tra finzione e realtà.
Il film Censor del 2021 è disponibile in streaming su Amazon Prime Video
Censor (2021) è un film di Prano Bailey-Bond in streaming in italiano su Amazon Prime Video a partire dall'8 agosto 2022.
La trama del film Censor
Nel 1985, Enid Baines lavora per il British Board of Film Classification durante l'apice di una controversia. I colleghi di Enid la chiamano "Little Miss Perfect" a causa della sua severità nel raccomandare che i contenuti violenti vengano tagliati o banditi.
Mentre Enid è a cena con i suoi genitori, discutono della scomparsa della sorella di Enid, Nina, quando i due erano piccoli. Da allora i genitori di Enid hanno dichiarato Nina legalmente morta, ma Enid è convinta che sua sorella sia ancora scomparsa.
Poco dopo che un uomo ha ucciso sua moglie e i suoi figli, un giornale scandalistico collega gli omicidi a un film che Enid aveva valutato diversi mesi prima, nominandola censura che lo aveva approvato.
Enid inizia a ricevere regolarmente telefonate che la minacciano e la insultano. Un giorno, Enid viene avvicinata da Doug Smart, un produttore cinematografico che afferma che un veterano regista dell'horror di nome Frederick North le ha chiesto personalmente di proiettare uno dei suoi vecchi film, Don't Go in the Church. Durante la proiezione, Enid nota che gli eventi rappresentati sono paralleli ai suoi ricordi della scomparsa di sua sorella.
Indagando ulteriormente su North acquisendo una copia di uno dei suoi film vietati, Enid nota che la protagonista del film, Alice Lee, ha una somiglianza con la sorella scomparsa…
Censor è un buon film horror che è stato generalmente apprezzato dalla critica.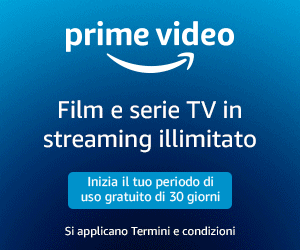 Netflix        News        Serie TV        Film        Amine        
Apple        Android        Tecnologia        Prime Video        Offerte        Disney+
Seguici su Facebook      Twitter      Pinterest
Seguici su Telegram: Netflix, Offerte Amazon Prime, Prime Video